Accessories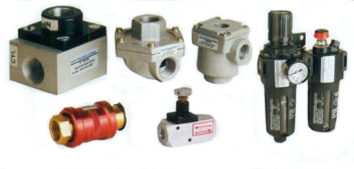 • Industrial applications where ultra-dry air or very low dewpoint (-40°F pressure dew point) is required.
• Installations where downstream air systems are exposed to ambient temperatures down to -40°F (-40°C).
• Pneumatic instrumentation and controls .
• Paint spraying, plastic and epoxy coatings, powder coating.
• Engineering and scientific laboratories .
• Controller " transmitters, valve positioners, operator, air bearings and air motors .
• Audio-Video cassette rewinding machines/ CD Plants .
• To protect Actuators
• Food Packing! Processing I Pharmaceuticals I Tablet Packing.
Features
• Wide range of sizes 10 suit your requirement 10, 25, 50, 75, 100, 200 SQ'M and many more.
• Calibrated needle valve to adjust purge flow to actual outlet f1(1W and pressure conditions .
• Overlapping cycle time to provide constant downstream pressure and dew point.
• Normally open bottle valves allow constant air flow through dryer even in electricity failure .
• Integral wall mounting models are available to save floor space .
• Easy installation - just make the air connections and plug in the electrical power cord. - Lightweight and compact. Inlet and outlets are from top where as purging is from down .
• Facilitates the water flu hing out during purging .
• Trouble free and reliable performance.
| | |
| --- | --- |
| | Two towers, filled with a desiccant which adsorbs water vapour, provide ultra-dry air (-40°C pressure dew point) for operation of sensitive pneumatic devices. Inlet air i dried in one tower during a drying cycle. Simultaneously, the desiccant is dried in the other tower during the regenerative cycle. An electric timer automatically cycles inlet air between the towers every two minutes providing a continuous supply of dry air. Constant downstream pressure and dew point arc maintained by overlapping the cycle times (both towers are pressurized briefly before changeover). During the 'regenerative cycle' the desiccant is dried by purging with a small amount of dry air from the on-line tower (Dry air passes through the desiccant and Is exhausted to atmosphere). A calibrated needle valve allows the amount of air used for purging to be kept to a minimum. i.e 5-8% |
Technical Specification
Inlet 'Pressure
Min. 1,4 Kg/Sq.cm
Max. 10 Kg/Sq. em.
Dew Point
Outlet-40°C
Capacity
10,25.50,75,100,125,200
CFM for Heat less Type .
More than 200 to 5000 CPM.
Heated Low Purge Type (HOC)
Ambient Temp
Max. 50°C
Size
Compact
Desiccant
Activated Alumina
Type
Heatless Regenerative
Heated Low Purge